About Reverse Polarity Series
Introduction
Reverse Polarity non-standard interface connectors are designed for spread spectrum wireless applications where Part 15. 203 of U.S. FCC regulations are applicable. The reverse polarity design prevents damage and will not mate with standard interface devices if accidentally connected. SMA, BNC and TNC devices are readily available. Standard cable affixement sizes are available with special or custom design inquiries accepted.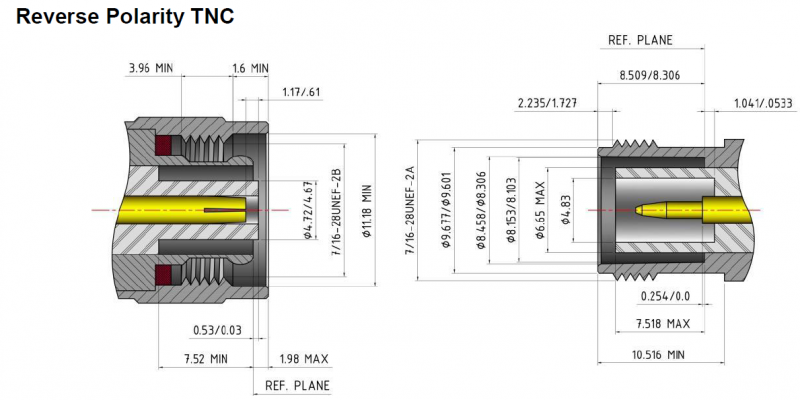 Electrical
Impedance:50Ω (SMA)、50Ω / 75Ω (BNC、TNC)
Frequency Range:0 to 18 GHz (SMA)、0 to 4 GHz / 0 to 1 GHz (BNC、TNC)
Voltage Rating:≥500 V rms (depending on cable)
Insulation Resistance:≥5 GΩ
Dielectric Withstanding Voltage:1000 V rms (SMA)、1500 V rms (BNC、TNC)
Contact Resistance:Center Contact  ≤3 mΩ (SMA)、1.5 mΩ (BNC、TNC)  /  Outer Contact ≤2.5 mΩ (SMA)、1 mΩ (BNC、TNC)
VSWR:≤1.3 (Straight)、≤1.35 (Right Angle)
Mechanical
Mating:1/4-36 UNS Screw-on Coupling (SMA)、Bayonet Coupling (BNC)、7/16-28 UNEF Screw-on Coupling (TNC)
Connector Durability:≥500 Cycles (for beryllium copper female contact only)
Recommended Mating Torque:7.1 lbs ~ 9.7 lbs (SMA)、0.6 lbs ~ 2.5 lbs (BNC)、4.1 ~ 6.1 lbs (TNC)
Coupling Nut Retention Force:≥101.2 lbs
Cable Retention Force:≥ 12.1 lbs (for RG316)、≥ 28.7 lbs (for RG58)、≥ 38.3 lbs (for RG59)
Environmental
Temperature Range:-65° C to 165° C
Corrosion (Salt Spray):MIL-STD-202, Method 101, Cond. B
Thermal Shock:MIL-STD-202, Method 107, Cond. B
Mechanical:MIL-STD-202, Method 213, Cond. I (SMA) / MIL-STD-202, Method 213, Cond. G (BNC、TNC)
Vibration:MIL-STD-202, Method 204, Cond. D (SMA) / MIL-STD-202, Method 204, Cond. B (BNC、TNC)
Material
Parts Name
Material
Plating
Body
Brass
Gold or Nickel
Inner Contact
Plug: Brass
Jack: Beryllium Copper,
Phosphor Bronze, Brass
Gold or Nickel
Insulator
PTFE or Delrin
None
Gasket
Silicone Rubber or Rubber
None
Crimp Ferrule
Annealed Copper
Same as Body
Note: Other Material/Finish is Available on Request.
Features
These connectors may also be used in applications where keying is a necessity. The RP BNCs meet the same high quality requirements as S-Conn's standard BNCs. They offer excellent performance DC~ 4GHz.