Introduction
TNC connector is a threaded version of the BNC connector. The connector are miniature, weatherproof units which have constant 50 ohm impedance and It has better performance than the BNC connector at microwave frequencies, operate in the 0-11 GHz frequency range. These features make TNC connectors an ideal choice for use in cellular mobile communications, and test and instrument equipment. TNC connectors are also widely used in airframe, aerospace and radar applications where extreme vibration is a factor.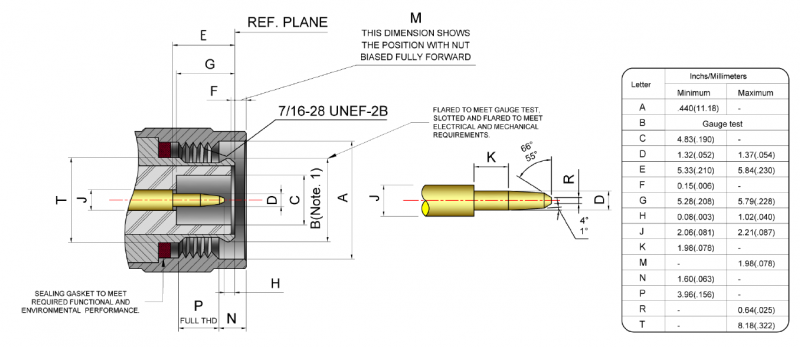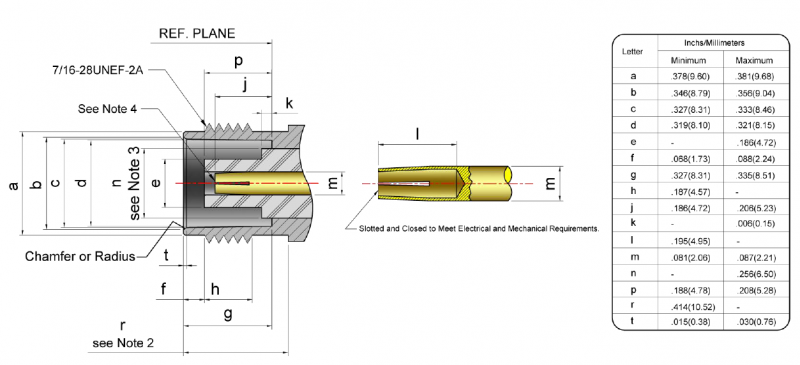 Electrical
Impedance:50Ω 
Voltage Rating:≧500 V rms.(depending on cable)
Insulator Resistance:≧5 GΩ
Dielectric Withstanding Voltage: ≧1500 V rms
Contact Resistance:Center Contact ≦1.5 mΩ、Outer Contact ≦0.4 mΩ
Mechanical
Mating: 7/16-28 UNEF Screw-on Coupling
Force to Engage and Disengage:
Torque: ≦2 in. lbs.
Coupling Proof Torque: ≦15 in. lbs.
Coupling Mechanism Retention Rorce:≧100 lbs.
Environmental
Temperature Range: -65°C to 165°C
Corrosion (Salt Spray): MIL-STD-202, Method 101, Cond. C
Shock: MIL-STD-202, Method 213, Cond. I
Vibration: MIL-STD-202, Method 204, Cond. B
Thermal Shock: MIL-STD-202, Method 107, Cond. B
Except Test High Temperature Shall Be +85°C.
Material
Parts Name
Material
Plating
Body
Brass
Nickel or Gold
Inner Contact
Plug: Brass
Jack:Brass,Phosphor Bronze or Beryllium Copper
Nickel or Gold
Insulator
PTFE or Delrin
None
Gasket
Silicone Rubber, Rubber
None
Crimp Ferrule
Annealed Copper
Same as Body
Note: Other Material/Finish is Available on Request.
Features
Connectors are suitable for use in applications where safety can't be compromised such as test and measurement, and medical equipment.
Accommodates a wide range of popular coaxial cables.
Screw-on coupling mating.
Available in crimp terminations to provide for low cost installation.
Interface according to IEC 169-17, MIL-STD-348B
Applications
Cellular Mobile Phones
Test and Measurement
Instrumentation
Aircraft and Missile
Radar
Computer Networks/LANs
Base Stations
Microwave Components (Filters, Diplexors)