介紹
These connectors have been specially developed for application in communication engineering. The maximum operating frequency of the 50 ohm version is approximately 4 GHz. Plug style are available for screw-on, snap-on (two versions: simple snap-on and an automatic latching quick-lock), and slide-on coupling. Female styles are identical for all versions.
Type A (Screw-on coupling)
The connector is fitted with a coupling nut with which the plug and socket sections can be screwed by hand in accessible locations.
Type C (Slide-on coupling with centering sleeve)
The movable (floating) inserted male connector used in a panel plate is provided with a conical insertion guide to facilitate its connection to the fixed part (female connector). The interconnection is a slide fit.
Type F (Quick-lock automatic latching coupling)
Plugs possess a latching sleeve fitted with an additional spring device which snaps into a corresponding slot of the jack when it plugged together. Pulling the latching sleeve of the plug disengages the connection. Rapid and simple connection and disconnection is possible.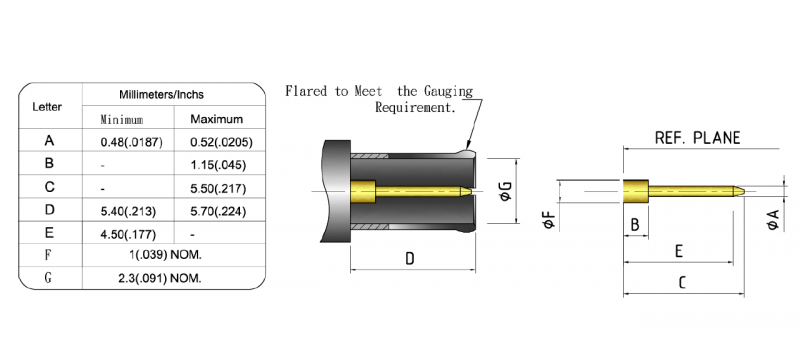 電氣特性
連接器阻抗:50Ω / 75Ω
運作頻率範圍:0 to 10 GHz / 0 to 2 GHz
電壓額定值:250 V rms (depending on cable)
絕緣阻抗:≥1 GΩ
絕緣耐電壓:750 V rms
導體阻抗:中心導體阻抗 ≤10 mΩ、外部導體阻抗 ≤3 mΩ
機械特性
對接方式:Screw-on / Slide-on / Quick-lock
結合插入力:≤2.3 lbs
分離拔出力:≤2.3 lbs
環境測試
適用溫度範圍:-40° C to 85° C
腐蝕(鹽霧)測試:MIL-STD-202, Method 101, Cond. C
熱衝擊測試:MIL-STD-202, Method 107, Cond. B
機械衝擊測試:MIL-STD-202, Method 213, Cond. B
震動測試:MIL-STD-202, Method 204, Cond. A
材料/電鍍
| | | |
| --- | --- | --- |
| Parts Name | Material | Plating |
| Body | Brass | Nickel / Gold |
| Outer Contact | Phosphor Bronze / Beryllium Copper | Gold |
| Insulator | PTFE | None |
| Inner Contact | Brass / Phosphor Bronze / Beryllium Copper (Socket Only) | Gold |
| Ferrule | Annealed Copper | Same as Body |
Note: Other Material/Finish is Available on Request.
產品特點
Meets DIN 41626, DIN 47297 and NFC 93-571 international specifications.
Plugs and bulkhead jacks available in pull types ensuring high reliability and a lower installed cost.
Mates with DIN 41612 Two-Piece connectors.
Interface according to IEC 169-29, cecc22230, DIN47297
應用層面
Telecommunications
Switching equipment and router
Datacom